I adopted...
Two Angels!
Name: Naoko
Likes: cookies, children, romance, music.
Dislikes: preps, to be yelled at, to hurt anybody in any way, shape or form.
Owner: GoldenServent612
Name:Angela
Likes:Light, purity, love, and kindness
Dislikes:Jealousy, anger, hatred, and black auras.
Owner: Goldenservent612
A ShapeShifter!
Name: Kira
Likes: Sea Food, Humour, Nature, Animals, her best friend, music, rain.
Dislikes: Dumb people, trouble
Owner: GoldenServent612
Twin Nekoes!
Names: Xia and Yue
Likes: each other, nature, fun
Dislikes: (xia) the cold, (yue) the warmth
Owner: GoldenServent612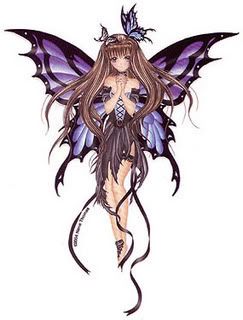 A Fairy!
Name: Tiana
Likes: to fly around, explore, play with Blake
Dislikes: Pink
Owner: GoldenServent612