About
My Best Anime Character EVER!!!!!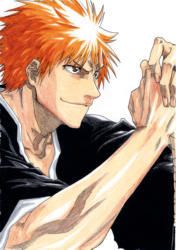 Kurosaki Ichigo
Age: 15
Height: 174 cm
D.o.B: July 7
PERSONALITY:
Ichigo live up to his reputation as an anti-social tough guy; while this is much unlike his true personality, he enjoys keeping that lone wolf attribute as far as the public eye is concerned. Only those who he calls friend truly knows the depths of his character, seeing him as determined, compassionate, and driven by the need to do what is right, no matter the personal loss to himself. As a Shinigami, he possesses more endurance than experience, which has led to him toppling the very same people who would scold him for his lack of skill. It is seen that his determination is his true strength, forcing him to push onward where anyone else would quit, and even to surpass his own limitations when the need arises.
Conversely, there is a darker personality at work within him; the Hollow that developed within his soul at the time he gained his Shinigami powers. This part of Ichigo fights with supreme knowledge, equal or greater to a Captain level Shinigami, and the arrogance to match. It does not fight for just cause, but for it's own enjoyment, and could be easily considered the anti-thesis of Ichigo.
Ichigo Zanpakutou:
Ichigo carries Zangetsu (Translated as "Cutting Moon&quot
wink
as his Zanpakutou. As can be plainly seen, Zangetsu is in a permanent state of Shikai, thus eliminating the need to unseal his weapon before combat. Rather than a typical sheath, the long silk scarf of the handle wraps itself around the blade when placed on the back, and retracts when in combat. It's chief ability is the Getsuga Tensho (Moon Sky-Piercing Fang) which releases a heavy concentration of spiritual energy as an offensive wave. Rather than employ stronger technique, Ichigo simply concentrates further levels of Reiatsu to match up to his enemy's more powerful attacks.
His Bankai, known as Tensa Zangetsu (Chains of Heaven - Cutting Moon), is often underestimated by the enemy, due to the fact that it actually decreases the size of the blade from a giant cleaver to a mere Katana. The weapon's true power, however, lies in it's ability to enhance Ichigo himself. It possesses the same level of power that the Shikai form does, meaning it is still capable of using the same striking force, but is concentrated into a finer form, which also allows Ichigo to run at a speed beyond even Shunpo (Flash Steps.)
thanx BleachExile.com