About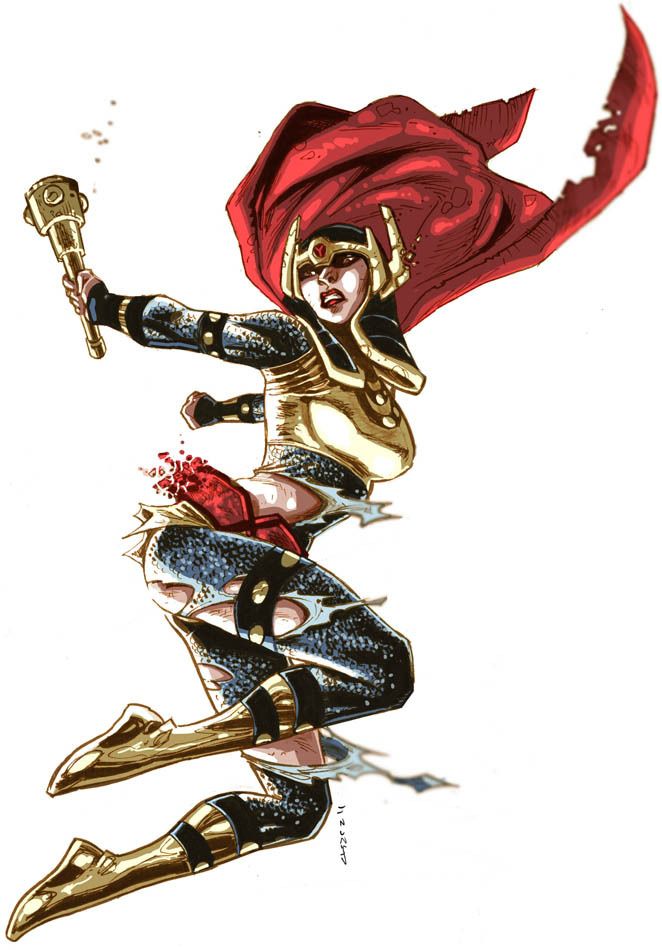 'Born in blood, bred for war, I was always destined for leadership, destined to lead Darkseids honor guard, I am Hot Gates, Big Barda, daughter of the warrior Queen Big Breeda, and Highfather Izaya, Kneel before the might of Darkseid and I'll grant you absolution, or deny and die at the end of my blade'
Yes I arpee!
Name: Barda
Title & Nicknames: Big Barda, Hot Gates, General Barda of Apokolips
Age: Appears to be in her mid twenties, though her real age is questionable, Barda ceased to age eons ago.
Height: 7'0
Brief description of how she looks: Dark black hair, always typically worn in spiraling downy curls, like shaved chocolate, or tied up under her helm. Her skin is flawless, mocha in tone, lips petite and curved beautifully to accomodate her heart shaped face. Eyes dark and fierce, almost always seen donning the high powered Armor of Apokolips, only enhancing her incredible almost god like abilities further.
Strengths: Agility, Berserker strength, and speed, can easily lift 100 tons but has shown to have strength of 95 million tons, excelled healing... Her new God biology makes her immune from toxins and disease, superior Intellect, invulnerability takes a lot to harm her, marksmanship, knowledge on all weapons, Omni-lingual, super stamina, tracking, concussive blast power with favored weapon the Mega-rod which can also be used to teleport herself or other allies out of harms way, divine powers, energy based constructs, energy Enhanced strike so powerful can crack a planet in half, energy manipulation, flight with aero discs, gadgets like the Mother Box weapons from Apokolips, immortal, power suit, super sight, swordsmanship, teleport, expert in unarmed combat, Barda has been hailed as the Amazon of Apokolips.

Weaknesses: While the world is her own to command if she so chose it, she is bound by a chain of rules she must abide by, faithful to Darkseids cause.
Personality: Battle born, and battle hardened, Barda's Mother and Father were both incredible warriors themselves. Bold, powerful, and at times savage in battle, she is as wise as she is ruthless, but can in her own way have a softer feminine side, very rare to be seen.
History: Born As Barda, to a mother and father both incredible warriors, she was taken as an infant to be raised on Apokolips under the care and tutelage of Granny Goodness, taught every in and out of the Warrior, Barda rose quickly in the ranks catching Grannies eye, and so it was her most esteemed honor to join Darkseids honor guard, but it was her fierce loyalty, her prowess in battle that drove her to the top, and so Barda became General, leader of the Female Furies, an elite group there to support the Dark God.
"--Word throughout the worlds conquered by the might of Darkseid, is that I've been hailed as the Amazon of Apokolips, all vain, fact is that I have gone toe to toe with Wonder Woman, but I take no such names to heart, vanity and pride are both weaknesses, ones I dare not allow my enemies to exploit,"
"--I'm not at all discriminatory when it comes to weaponry, Blade, Staff, ranged, unarmed or blunt, I have made certain to master it, my goal to flawlessly weld it without hesitation or error, though my favorite will always be the Mega-Rod, if you don't get killed and caught in the blast, wait until you see the boom!"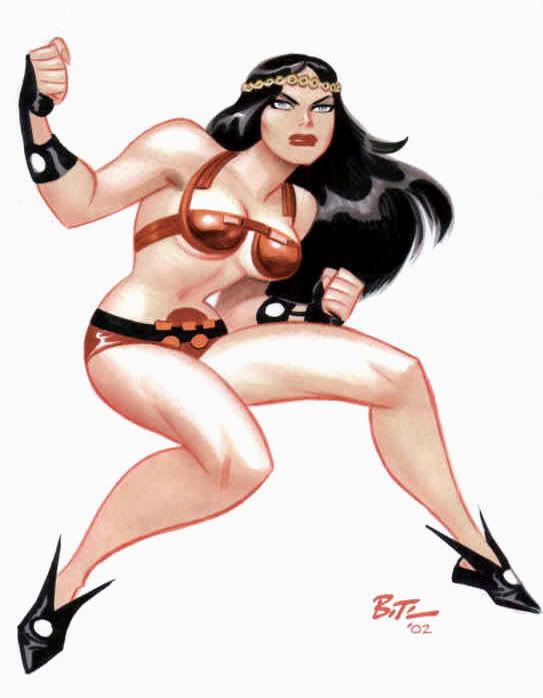 "--I'm not all War, and berserker bloodshed, if you're not a complete d**k, maybe, just maybe you'll see a slightly softer side of me, probably not though... I'll probably just punch a hole through your face, kidding... Maybe..."