About me...?
You want to know about me...?
Well, while gaming Online,
I'm mostly known as The Game Jamie, but just call me Jamie!
And yes, that's my real name.
And no, this isn't my first account.
I've been on Gaia since Nov. 2004.

Due of past experience, I will not be talking sharing too much of my real life stuff here on Gaia Online or anywhere Online. Which means, no asking me for my cell number, any photos of me, what my family is like, how old I am, where is live, none of any of that kind of stuff!! Unless I really get to know you. Only my closet friends knows who I am in real life. Please understand that.
And no, it has nothing to do with my appearance. I'm a really well fit and very healthy person. I used to not be shy about showing myself online. However due to family events, me and my mother can't show ourselves online.
Very short version:

In short, it was just a major family issue that wasn't my fault, it's mainly my Father's fault. He cheated on my Mother and want things his way because he is a rock star and he believes he should have sex with anyone he wants. Spend three years trying to fix him but he kept cheating and endangering our lives that we had to kick him out.

Father lied to his friends and his fans that we kicked him out for no reason. And his fans would attack me and my mother online. On Facebook, my profile had my username that I used in a lot of sites, gaming accounts and each one got hacked and been insulted on Facebook.

And this is a very short version of the story. Let's just say, each therapist we go to never seen family issues as bad as we have and it has Jerry Springer a run for his money! At least that's what my Mother's therapist said. We could write a huge book of what happened!

Since then, I've been hiding behide avatars and go by a new username. So you'll only know me as my avatar. And I can't trust anyone. Again, please understand my issue.

Anyways, now that is out of the way, here's what I can say about myself...
Not much to tell. I try to keep myself positive. Even during my family issues. I am known to be funny and weird person. And I try to be a nice person. And I rarely get mad. But if any case I do feel upset, I try not to show it here on Gaia and in real life. At least on Gaia it's easier because I try not to post when I'm upset.
I do have a full time job that involves a lot of traveling! So I'm rarely at home and you might not see me online as most people here. But if you ever see me online, don't be shy to PM me! It always cheer me up when a friend message me after a stressful day! I mostly go online on my iPhone because of my job.
I am a Gamer. And in case you haven't noticed by the look of my Profile, I am a huge Nintendo fan. I grew up with Nintendo with since I was 3 years old. I'm a huge fan of the Legend of Zelda games, Fire Emblem games, and some of the Mario games.
I also am a PC gamer. I do have a Steam account and Blizzard account. I do play World of Warcraft and Overwatch sometimes when I can be at home. A lot of games that's on consoles ((other then Nintendo)) are most likely on Steam for PC gamers. So I haven't been been in a huge hurry on getting a PlayStation 4 or a Xbox One. But I am planning on getting a PlayStation 4.
If you like to add me, here's my friend codes and usernames! Please do PM me before adding me so I know it's you.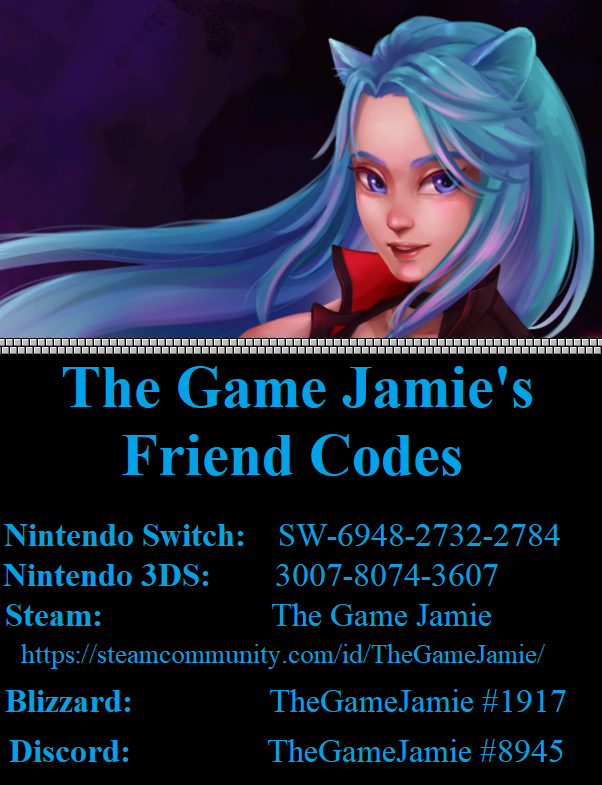 I also like Anime/Manga, I also draw Anime/Manga style. However due of my busyness, I haven't been able to draw in a long time so... My drawing skills might be a bit rusty...
And yes! I do Role Play!
Let's be honest. This is the reason why your here. You wonder if I Role Play. And yes, I do Role Play. And yes, I can play male and female characters. I do play Yuri, Yaoi, and Het ((straight)).

I am an open person, so PM me with some ideas and we'll work together to have a good Role Play.
Just to let you know, I am not perfect. I got a brain damage during birth and because of that, I am stuck at the 4th grade reading level for the rest of my life. Plus I have short term memory disability. But I try my best when it comes to Role Plays. My grammar may not be perfect, but I try to make it readable as best I can.
I can handle it if you do 1-2 paragraphs, but try not to make your post to long to read. It's fine for starting the RP to be long to open up the story.
My interests often charges, so I wouldn't type a list of interests. PM me of whatever your interested in a RP. We'll work together to make our RP to work for both of us!
What I can say is that I always say yes to fantasy type RPs. And a few Series base RPs. Whatever series that may be. Like Legend of Zelda, Smash Bros, World of Warcraft, ect, and ect. If you are interested in a series base RP, PM which ones you like and I'll see which one I'm willing to do. Base off of whatever series I know.
Whenever I get some extra free time and when I don't feel lazy, I'll make a list of series in my journal or somewhere...
sweatdrop