About
!Hola persona! I is Fyfuu. I love drawing, more than anything. I'm talented as well, or so I am told. I also like swimming, going out on my dad's boat, hanging around the house, and obviously, going on the computer half the day. I also really enjoy playing the Wii.

I love all my pets, my bichon frise, rabbit, and senegal parrot.

They are all cute, but the bird is pure evil.

Making friends is almost as easy as breathing to me, I just love having things to talk about with someone! I don't crave attention, I usually hang back, and watch things go by. I'm absolutely not hyper, sleeping is my favorite pastime.

I hate disapointment and I hate it when people's efforts aren't appreciated, or when people try to be nice and they are ignored or still labeled mean. I like people who make me laugh, which I am always doing. Random things make me laugh like explosions on video games or people acting a dumbutt.

I positively love reading. I love going to another world in my mind. Its cool to learn new words and understand other words better. I used to despise reading, now I can read a 500 page book in a few hours, no lie. As long as it is interesting of course!
Anime is fricking awesome. I actually dislike some american shows because sometimes the plots are annoying and cliche. I have mentioned before I can draw anime, and I make sig art for those who are interested. Anyway, I watch anime all the time, when I can.
Anyway I hope that you enjoyed learning about me!
Here is one of my avis: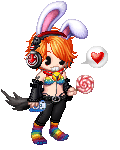 Here is a sketch of one of my avis:
Here is my sketch scanned and redrawn in OpenCanvas 4:
I got skillz!
Friends
Viewing 12 of 150 friends
Journal
About me and More
About Me and More
About me, and some other info you probably never knew!
Multimedia
Signature
Haikus are easy.
But sometimes they don't make sense
Refrigerator[/color:f7c06eee86] 3nodding
[img:f7c06eee86]http://i129.photobucket.com/albums/p236/Fluffers34/cartoon.jpg[/img:f7c06eee86]