About
You have reached the site of.......... ME!!!!! Anyway, these are some of my favorite things:
~Phantom of the Opera
~Singing
~Books(especially the Phantom of the Opera book)
Here are a few details about me:
~My hair is multi-colored
~I have blue eyes
~I am a scorpio
~My birthday is November 21st
~I DO have a boyfriend
~I am in many guilds, most of their banners are below. 2 aren't
~I am saving up gold for my dream avi, so don't ask for donations
~Donations are loved, but even if you do not donate, it's alright
~I am currently anti "txt-tlk", so type out your own damn words
~I only cuss if I'm angry, so don't get me angry
~I am slightly Bi-Polar, so excpect sudden mood swings
My white and black lists:
White list: You get on here if you donate
Thuhgamefreak
lunaluv233
My black list: You get here if you overly piss me off
None, let's keep it that way!
Visit my shop:
Funturu's love Shack
If you know MegaTokyo, You'll know what's below::

You are Yuki!
Take this
quiz
!
Well, If you want to know what I look like, look at my avi. Seriously, everything looks exactly the same except my eyes are blue.
Here are my awesomely cool guilds: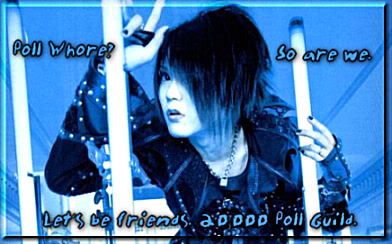 Say hello to Marie Antoinette!

Christine Daee!

Carlotta Guidicelli!

The Gold-Digger!

The Common Housewife!

The nervous dater!

The Trophy Wife!

And Finally....
The Rocker couple!

Journal
Hehe series! (Story of my life!!!)
I have made this for your viewing pleasure and mine. Utterly Disturbing, just the way I like it!
Multimedia