About
About me, well I am fond of classical literature, History, the world, a lot of TV shows, and the eccentric. I don't know I suppose I'm boring. Describing my goals will get a closer view on who I am I suppose.
Bucket List:
1.
Travel the world
to expand my knowledge of the unknown and value different cultures. One place cannot possibly be your home when you are free to roam the earth.
2.
Find my soul mate
, my right man, my trusted side kick. Cliche, I know. But it's a common goal I suppose. I've always wanted to take some darling by the hand and swing them a life full of adventure. I don't mean intense sexual desire I mean full out want to be surrounded and engulfed by their naturally beautiful existence.....I'm becoming ridiculous aren't I?
3.
Publish my damn books
It's been years I know but as I grow so do my characters. Through my eyes my writing can always be better, always brought to perfection. I deleted Prince Xaiver awhile back and it had a hundred pages in it. Thankfully though I have alot in store for these little guys. Besides I want my stories to have meanings and give out lessons like books were originally meant to. This world still faces difficulties and needs advice.
4.
Get a job in what I love to do
Such a difficult task for such a terrible economy. I Can't imagine myself sticking to one job though. One day I want to be a teacher and then the next day I want to major in Psychology, or possibly history, or maybe even the arts! This will be the death of me.
5.
Improve my art in unimaginable ways
,,,Because what artist doesn't?
6.
Embrace my problems with wide arms and fix them.
Why is this so hard?
7.
Find inner peace
...this will take awhile.
[/img]
8.
Make a difference one way or another.
It's difficult but worth a shot.
9.
Make fashionable, fashionable clothes
enough said.
So basically I'm the same person I was since a small child. Yet altered quiet a bit. how dull.
ANIME s**t BECAUSE FMA STILL GIVES ME THE FEELS AFTER 7 ******** YEARS.

IT'S MY MEEZ!!!!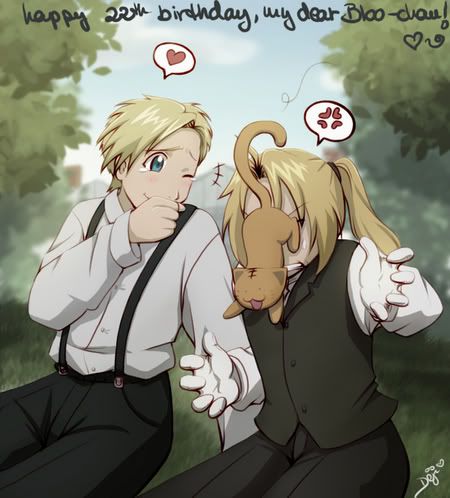 AND FOR THE FMA ICONS!