Frosticicle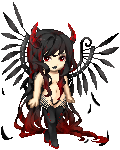 Details
Member Since

02/28/2012
Location

NorCal

Gender

Female

Birthday

12/02
---
Interests
About

Age: 22
Gender: Nonbinary
Sexuality: dramallama
Relationship Status: Single Pringle

Hey, I'm Frosticicle :3 Just call me whatever works that I will notice quickly. I prefer Frosty or Arlo~

Dream avatars completed: I lost count
Thank you very much, donors! heart


I'm literally too lazy to find a decent profile code, so here ya go, enjoy my default as hell profile.
Friends
Viewing 12 of 43 friends
Journal
=A= Boredomness
=A= Really? //Lazy
Signature
22 - nonbinary - any pronouns

butt nuggets