About
The Girl Behind It All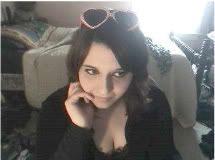 -My name is Gabrielle.
-I am 20 years old.
-My life is hectic and chaotic.
-I love my friends and my family most of all.
-Most people couldn't keep up with the way I live my life.
-I live everyday to the fullest,you never know when fate is going to intervene.
-I do not believe in God.
-I believe in the ideals of a Utopian society, despite living in a Dystopian one.
-Chances are, I will not like you, and you will not like me. Let's not sugarcoat the inevitable.
-This has been sufficient waste of my time.
_________________________
Likes
-the color black,as well as pink and other assorted colors.
-walking in the rain.
-long intellectual talks with my friends about various subjects.
-existentialism.
-naiveté.
-innocence.
-the feeling of being needed.
-self-actualism according to Abraham Maslow.
-gonzo journalism.
-Lewis Carrol and everything he's ever written.
-Hunter S. Thompson.
-indie movies.
-b list horror movies about zombies and the like.
-cigarettes.
-my rather ostentatious friends.
-playing online mmorpgs.
_________________________
Dislikes
-pathological liars.
-self-centered people.
-stereotypical society.
-overly friendly people.
-people who start s**t with no intention of backing it up.
-judgment.
-people who assume they know me,but really have no clue.
-rumors.
-whores who cheat on their boy/girlfriend because they have nothing better to do.
-people who believe everything they read.
Friends
Viewing 12 of 56 friends
Journal
Infekt'd Kytteh
Multimedia
Signature
I taste like
famous