Info
Hey ppl this is a shared profile. So to avoid confusion, if you wanna msg us just put the name of who u wanna talk 2 n the msg subject box k :] Comments r up for grabs tho, unless u include the name of who the comment is directed to. And plz dont randomly add as a friend, send a msg along with it, otherwise its just creepy. Any questions just ask Rocki, shes the runs behind the operation. Hav fun :] - 4 crazy chickas!
Rocki
Hey there smile My Name is Rakellah, but people call me Rocki. I took my first breath of air on December 13th, and here I am 15 years later. I am about 5ft 7in, and im athletic. I play a few sports, volleyball & track. But my true passion is Drill Team, I love to dance smile My Drill Mates call Me Pop Roxs lol its cool xd . My favorite baseball team is the yankees and me & my bes friend get into it a lot over baseball (Red Soxs Suck Jakers! razz lol), but its all in good fun. I love music, its probley the only thing that keeps me going. So if theres anything else you need to know, just send my a message.
Kairi
Howdy, my names Kairi. I'm 16 years old, and a junior in high school. My Birthday is October 20th, so yea that means i was moved up a grade. I', 6ft tall, and weigh about 117 lbs lol. I love to play sports, way to many to list though. I work at starbucks, i really love my job because all my friends work there. I'm pretty crazy, specially when I'm with my friends. I love videogames, they are my passion lol. I'm not here to impress you, or fake s**t. I'm my own person. If you have a problem with that, by all means ******** off. I have a picture, other then the one above (my RPC), but i only will give my picture to my good friends, so stalkers, don't bother asking for it. Well if you have any questions just send me a message!
Brittney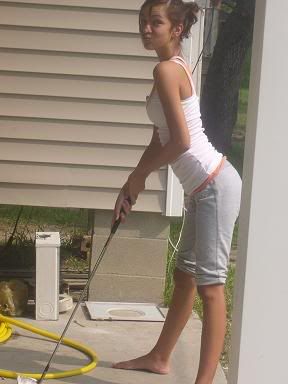 Hey ppl! The names Britt. Im 16 & im a junior at AHS(GO EAGLES!!!). Im pretty big on Team Spirit, and i pplay a hella lotta sports lol. My favorite sport by far out of them all is defenatly volleyball. Im about 5ft 9, and im pretty dahm fit. Guess all that excersise and vegiterrian-ness is to thank. Im sure i could pull of being a vegan, but i like dairy products, meats just gross to me. I can eat the food as long as i know that the animal was harmed or killed in the process. I lovve to debate, whats better then agruing professionally, and getting a grade for it? Your right videogames are better then that. But not those games like Halo and s**t, thats lame. Only thing fictional i can handle is Zelda and Kingdom Hearts. Ill stick with the Military Simuation games thanks lol. Well msg me if you wanna no more!
Total Value: 120,558,269 Gold
[Item Information]
Item List:
Wind Security Blanket
Portable Stereo Headphones
Winged Anklets
Bunny Slippers
ORLY? Hat
Satin Blue Pajama Shirt
Black Strapless Bra
Soft Black Underwear
Satin Blue Pajama Pants