About
Also, you should know that yes I started reading Shakespeare at age 12 but that doesn't automatically make me some book-loving nerd. I do like fun stuff like figuring out what stuff explodes in a microwave or if it's possible to leave a little bit of soda in the bottle, add some rubbing alcohol, toss a lit match in there, shake it up and throw it in a field to see if it'll blow up or if the match will go out. No, I've never actually tried that!
Even though I always say I hate shopping, I'm fine with it as long as you don't drag me into some girly shop or Hot Topic. I'm scared as heck of that place! Just kidding.
Anyway, another of my interests besides reading and disturbing society includes role-playing. While I am mostly interested in scrolling through guilds and reading stuff, I can never resist a good role-play if the opportunity arises. But for the most part, I'm WAY too busy to take part in a guild. However, I am looking steadily towards the goal of forming my own guild, so if I manage to make one, feel free to ask about it!
If you have any other questions, feel free to PM or comment!
Donors: Zoloenel
Glitterkitten
A mysterious benefactor(s) who donated a Blue Lace Fan and a Spirit Falcon!!!!
3nodding
My NEW dream avatar(s):
arrow
Total Value: 925,806 Gold
[Item Information]
Item List:
White Shirt
Blue Glamrock Jean Skirt
White Sporty Sneakers
Angelic Pendant
Drop Earrings
Shadow Spirit
G Blade
(my osm story character that I WROTE MYSELF lol
3nodding
)
PLEASE HELP!!! DONATIONS R APPRECIATED!!!
My Pets: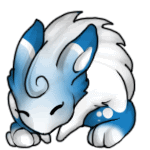 Which Final Fantasy Character Are You?
Final Fantasy 7
Multimedia