About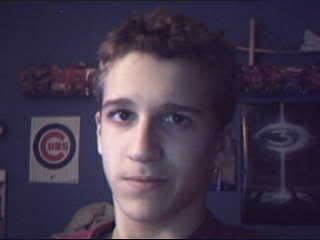 yes, thats me... and its updated to the current year too
as u may hav noticed in the background, yes i am a cubs fan and i luv halo 3
i love this woman so much, i would die for her

Tucker - The pimp. The sorta smart one. You believe Red and Blue are the same, yet no one listens to you. Poor guy.
Take this
quiz
!
Quizilla
|
Join
|
Make a Quiz
|
More Quizzes
|
Grab Code

Toki Wartooth - Rhythm guitarist. You are the most good-natured band member. Chronically depressed, you are a diabetic sugar-addict. Take this
quiz
!
You are 40% Evil

A bit of evil lurks in your heart, but you hide it well.
In some ways, you are the most dangerous kind of evil.
How evil are you?

Fire Dragon
Rage, passion, you burn with the essence of a powerful flame. You are powerful and majestic and dont let anyone stand in your way without a fight.
What Dragon are you?
You Are 50% Weird

Normal enough to know that you're weird...
But too damn weird to do anything about it!
How Weird Are You?
http://www.blogthings.com/howweirdareyouquiz/
Your Kissing Technique Is: Perfect

Your kissing technique is amazing - and you know it.
You have the confidence to make the first move.
And you always seem to know what kissing style is going to work best.
Sometimes you're passionate, sometimes you're a tease. And you're always amazing!
Are You a Good Kisser?
http://www.blogthings.com/areyouagoodkisserquiz/

Take the Magic: The Gathering 'What Color Are You?' Quiz.

i did this for no reason, but it describes me pretty well...