About
Hello there. My name is Fiona Applegate. But please call me Fi. Here is some insight into my crazed cranium XD.
I am 17.
Insane.
I love roleplays.
I love anime. Death Note is my fav(as you can tell)
Rainbows make me happy.
Trey is the best. Psychos rule =]
I am bent.

Here is my physical description:
I am 5'7", I am tannish, I have long black hair with pink streaks. I am naturally like really skinny. (but i look great) I mainly wear black and some neon color.

I am originally from Britain, so i have a slight accent.

Anything else you want, dont be afraid to ask.
Friends
Viewing 2 of 2 friends

Signature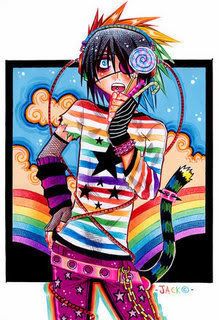 Beware the stare of Mary Shaw. She had no children, only dolls. And if you see her in you dreams, you must remember, never scream.