About
DOB: 28.06.1989
Currently lives in: England
Gender: Female
Considering how much I enjoy reading other peoples "about me" sections I figure I should make mine a little more readable.
I hate it when people just assume that all English people have posh accents, listen to classical music and drink tea all the time... However, I have as close to received pronunciation you're going to get outside of the BBC, quite like to listen to classical music and adore tea.
I'm an optomist; I consider myself very lucky and try to find pleasure in the smallest of things, every day I try to think of something that's made me smile.
For as long as I can remember I've been horribly paranoid; there are cameras watching me from behind every mirror, when people laugh they're laughing at me, every man who walks near me is a stalker.
I'm failry reserved and don't tend to make any real effort to make friends, however I'm ridiculously loyal to my real friends and love them unconditionally.
When I'm in an area full of people I sometimes like to just stand on my own silently and soak in the atmosphere.
Play flute
Played a the Royal Albert Hall (twice)
Played at Carnegie hall
Also played at Switzerland, Holland, Germany, France... (School band was goooooooooood).
Learn Japanese
Failed my A-levels
Been a nanny
Been to Egypt
Lived and worked in Japan
Learned Silver Service waitressing
Been on the dole
Had two jobs at once
Worked 12 hour days on many occasions
Got JLPT 3kyuu (at the same time...)
And now I'm studying adult nursing at University. I love it and absolutely can't wait until I'm qualified!
And here's my cat... In a bin...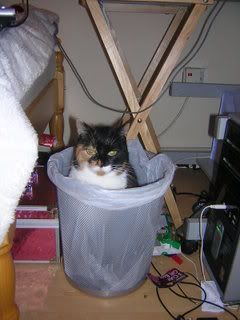 Journal
Random things you need to know if you want to survive!!!
Multimedia
Signature
~Life is what you make of it~
~It's your own stupid fault you decided to make Balut~
You've just been mocked by a disembodied pair of legs...