About Me
Faust is usually a very detailed and patient person who thinks scientifically unless the matter concerns his beloved Eliza. He does not tolerate interruptions while working (an example was having Eliza keep the X-Laws at bay, while he attempted to help Jeanne), and even less any criticism, insults or threats directed at Eliza.
Faust is the embodiment of dedication; he has given up everything for his wife and is willing to do anything, no matter the costs to protect and take care of her. It is this single-mindedness and selflessness that gives him his great strength in the Shaman Fight. Beyond all the mental instability, emotional suffering and somewhat gothic moods, his greatest strength comes from his pure heart; pure because he knows that he only lives to love and protect his dear Eliza.
Faust is an insane, but incredibly brilliant medical doctor who delights in saving lives. Naturally, his work reveals facets of his personality. He cures one of his opponents after their shaman fight, an illness that many doctors have given up on previously. Because Faust had devoted much of his time to seeking cures for illnesses, he is utterly devastated when he is unable to save Eliza and goes as far as attempting to resurrect her. When he treats Jeanne of the X-laws, he does so with zeal that nears madness. During the time in between matches, he is usually reading medical books, and feeds himself breakfast, lunch, and dinner through an I.V. line.
In the manga it is implied that he is addicted to morphine, when he transplants his tibia and feels no pain.
Faust VIII has a number of traits in his physical appearance that makes him stand out from the other characters in Shaman King. For example, his discolored lips and permanent bags under his eyes from lack of sleep. They contribute to his intimidating and seemingly dark look. Another very noticeable trait is the different color skin coating his chest and torso. To Faust, this detail does nothing but benefit him in creating a "fear-factor" impression on his opponents, which goes along with his personality.
Faust also has blond hair and blue eyes. He is also extremely thin, due to lack of proper amounts of food each day. Since Eliza passed away, Faust barely ate. He just consumed enough to keep himself alive.
When he was young, he met a girl named Eliza who was a patient of his father's but had an incurable illness. Faust worked to his greatest potential to become a doctor and find a cure for Eliza. He succeeded, becoming a master of the medical field and Eliza was cured. They fell in love and were married, and ran their own medical clinic.
Faust got a beautiful mansion near the seaside, and it seemed that his life with Eliza could not be more perfect. Unfortunately, one day while Faust VIII was out in town, a burglar broke into his house where Eliza was home alone. The criminal shot her in the forehead, killing her. Faust arrived at home and saw this horrible scene, and tried all of his medical skills to save Eliza, to no effect.
He became obsessed with bringing her back to life, and thus delved into the ancient practice of necromancy. For eight years Faust worked in his arts, never sleeping at all, which is why he has dark shadows under his eyes and purple lips. He enters the Shaman Fight in order to become Shaman King and use the power to resurrect Eliza.
Avi art by:Kay-R Bear Pixie
Avi art by: GA Callisto
Art by: Jalemn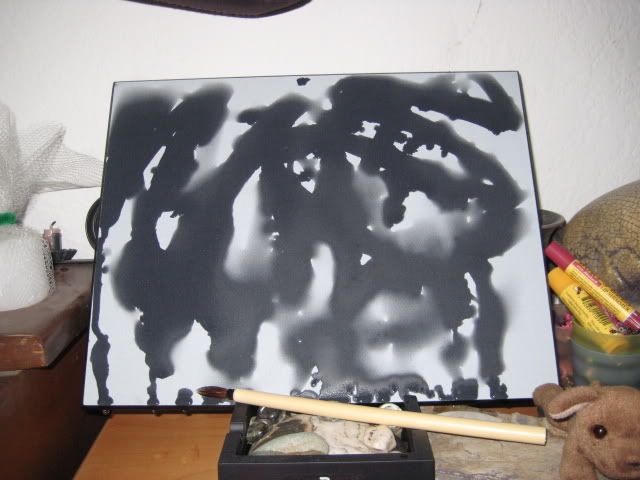 I painted this at my friend's house. It still creeps me out.