Who am I?....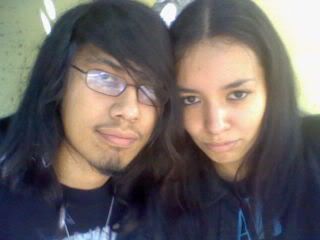 NO WAY ITS ME.....AND MY GIRLFRIEND SHES MAGICAL!!
!!!"OmO"!!!
in a positive perspective.....i am....nice funny decent looking sweet caring silly (persistant as hell?)...ummm im pretty relaxed...well thats what i hear...omo dont think i would entirely agree but yep thats just about me
name: kevin/falz/digi (call me either...i dont mind)
age: 16
hair: brown, black, white
height: 5' 9- 5'11
pets: ruffles, rave (and i dont even consider him a pet he's my friend)
favorite color
sad
i hav more than one)
1 gray 2 black 3 white 4 blue 5 orange
likes: hanging around with friends, starring at the sky taking care of school, being with someone special....running....
dislikes: gloomy beyond belief sometimes but rapidly changing b/c of someone....people that instigate things for the fun of it.....school idiots
So by what you've read....you know a little about me....and maybe we can talk in maybe some almost random pm...im sure meeting another person cant be bad at all -m-....so go ahead and do that if you ever have time i would be most appreciated *nods* talk to ya soon i hope...