About
My Favie Bands.

Black Sabbath.
Dead Kennedy's.
Minibosses.
Jack's Mannequin.
One Eyed Doll.
Otep.
ICP.
12 Stones.
Thirty Seconds To Mars.
TFK.
Aiden.
AFI.
H.I.M.
Blink 182.
Bullet For My Valentine.
Chevelle.
CKY.
She Wants Revenge.
Smashing Pumpkins.
The Forecast.
The Audition.
Alaska.
Between The Buried And Me.
Muse.
Motion City Soundtrack.
Three Days Grace.
Nirvana.
Unwritten Law.
Jack Off Jill.
FFTL.
Shattered Morality.
Avenged Sevenfold.
Tool.
Atreyu.
King Missile.
My Favie Movies.

Nightmare Before Christmas.
The Lost Boys.
Alice In Wonderland.
The Little Mermaid.
Silent Hill.
The Spiderman Trilogy.
Where the Red Fern Grows.
The Grapes of Wrath.
Interview With a Vampire.
The Thing.
Peter Pan.
The Goonies.
The Pagemaster.
Edward Scissorhands.
The Corpse Bride.
The Others.
Invasion *The one with Nichole Kidman*.
Wristcutters.
Sleepy Hollow.
American Beauty.
Crank.

Friends
Viewing 12 of 66 friends
Journal
First Entry
*sigh*
Multimedia
Signature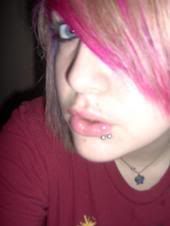 Ma Nikki.