About
Name: Ashy
Age: 21
Gender: WOMAN.
Location: Maryland, USA
Birthday: April 10
Sexuality: Bisexual
Relationship: Married to Trickster Roxy Lalonde heart
Lifetime Goal: I don't have a clue anymore.

I don't change my profile often.

Things I really like right now: Doctor Who, My Little Pony, goth fashion, rave fashion, steampunk... other stuff...

If you go to Otakon, you're likely to see me there.

Hippy263
Which came first?
The Platypus, or the "What the ******** is that thing?!" ?
rofl
SIGNS, WHICH ARE OLD AS BALLS
A sign from Bryce, the best friend I've ever had. Thanks dear.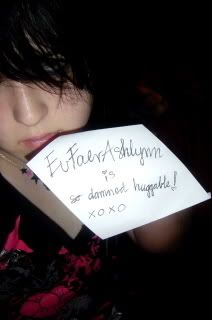 Sign from Aesthetically Delicate. Thank you muchly!
Friends
Viewing 12 of 132 friends
Journal
Ashy's Journal
Beware of Fluffy.
Well, it's my journal.
Multimedia
Signature