About
OTHER LINKS TO STALK ME WITH:
[visit my house]
[read my journal]
[view my aquarium]
[my quest thread]
[evolving item guide]
[my clan]
[in the arena]
[avi art]
[join me]
ABOUT ME:
Hi! i'm emorexic-pimp (original username was emorexic~pimp) and yes i know that emorexic is apparently fun to say. It's my own word with no real meaning other than that which you give it. My join date was 28 Nov 2006. Not trying to brag (XD 06 = bragging?)... i just forget it a lot and wanted to post it somewhere I could check regularly for. >.>;;

I'm 19, live in Illinois

and like long walks on the beach

and that's about all you'll get out of me ye' *****! As for everyone else, I'm always up for a random PM and if I don't respond it's usually because I either got caught up in something else or couldn't think of anything to say back; not because I hate your guts... usually.
I'm pretty self-conscious so don't expect to see me camwhoring... asking for pix will get you nowhere since the only one that i've revealed is over two years old by now.




My Mules:


emorexic~bunny, emorexic-mule, admial-awesome



I was a zETA. What was it like? GLITCHY, LAGGY, SLOW AS HELL, but surprisingly fun...



Other: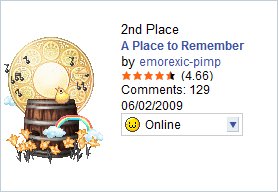 I
N
M
E
M
O
R
Y
O
F
W
I
N
S
E
L
T
O
N
M
Y
M
O
M
O
,
W
H
O
W
A
S
T
A
K
E
N
F
R
O
M
M
E
Friends
Viewing 12 of 60 friends
Journal
emorexic~pimp's Journal
Multimedia