About

im Emily.
im a belly dancer.
i love to dance and be cool lol
smile
um.. o i love to make people happy and i love to give stuff....My best friend is Brianna! She is the coolest best friend in the world! Shes funny,nice,sweet and the best! O i have a twin sister named Colleen. She cool to but not as cool as bri / Brianna. thats what i call Brianna BRI!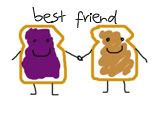 WHAT I LIKE: Pandas, bunny's, people that like pandas and bunny's
and a lot more
<3
<3
<3
<3
WHAT I HATE:
People who think there all that
Global warming
Drugs
Nerds
MY SONG!
Who lives in the east 'neath the willow tree
Sexual Harassment Panda!
Who explains sexual harassment to you and me
Sexual Harassment Panda!
Don't say that don't touch there
Don't be nasty says the silly bear
He's come to tell you what's right and wrong
Sexual Harassment Panda!
This is to my sister Colleen
Sister, please hold my hand
As we journey through this land
Together we stand, together we will fall
No matter what, God will keep us together
That will be the best of all
Sister, please hold my hand
Because without you I can't stand
For we were put on this earth for a reason
To go through every good and bad season
Sister, please hold my hand
As our strength, together, builds each other to become strong
So that our love for each other will last long
"There is no time like the old time, when you and I were young!
Friends
Viewing 12 of 62 friends
Multimedia