Just a little bit about me- Emi Anne!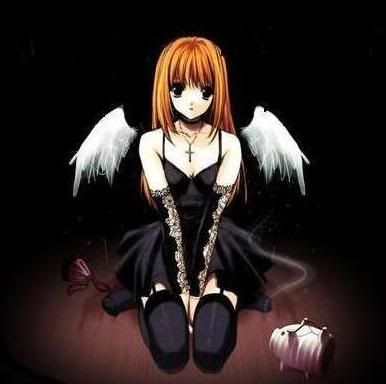 Hi! My name is Emily Anne, or just Emi for short. I'm kind of new on Gaia because my friends only recently got me into it, but I'm having a lot of fun. I fall somewhere between the ages of fifteen and nineteen- and you're not getting anything more specific from me than that! I use black and white (with the occasional gold) as my theme colors because... well, because it's kind of fun, I guess. I wear a lot of them offline and I've learned that you can either stand out a lot or blend right in depending on how you wear them, so I decided to go with just that on Gaia. So if you get any really cute ideas for black and white avatars, send them my way!
My hobbies are pretty basic introverted teenage girl stuff, I guess. I'm usually pretty shy off the computer, so I'm more fond of quieter activities. I'll read just about anything anyone wants to put in front of me, but my favorite manga is definitely Chobits; I have the whole series! I also like things like Chrno Crusade, Le Chevalier d'Eon, and Princess Ai. I really enjoy mangas with a gothic, gothic lolita, or even historical flare. I love looking at the costume designs and all the different outfits. I would like to be a fashion designer someday, but I'm better at coordinating outfits than I am drawing them up on my own.
I all listen to a lot of music, especially when I'm reading. I listen to a lot of Within Temptation, Evanescence, and Sonata Arctica, and I also like Japanese pop music like the kind they use on Dance Dance Revolution. I also hear a lot of Linkin Park when I hang out with my friends, and some of it is pretty good, too. Mostly I go with what's playing and don't really mind it. I'm not that picky.
When my friends and I aren't sitting around listening to music, a few of us like to go shopping together, too. I hate it when those prim-looking ladies come up and ask what we're looking for; I never know what to say! But I really like it when my boyfriend's older sister goes on a bargain spree. She can always find the best sales in the mall, and she's really good at finding just the right outfit for anyone in the group and even re-designing some of what she finds. If anyone is going to be a fashion designer, it's her! It makes me kind of jealous...
I guess that's about it for me. I don't really watch a lot of TV unless
somebody
(and she knows who she is) drags us over to her house for horror night. Horror movies can be fun and all, but some of the stuff I've seen has just been really, really bad. I mean like ten-foot fountains of orange blood bad. Really...
So that's all I have to say for my "About Me" section. Enjoy the rest of my profile!