Eloquently Charmed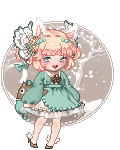 Details
Last Login

04/25/2016 12:59 pm

Member Since

07/31/2005
Gender

Female
---
Interests
Favorite Movies/Anime
Favorite TV Shows
Favorite Music/Bands
About

I'm a 22/ F /Canada's East Coast,I live near the water. I'm interested in tons of different things, just ask! (I also love making new friends C; )

I like talking about;
Music, art, politics, tea parties, clothing, music (any kind) and much, much more...I love the CB and Art Forums. I'm open to pretty much anything and won't judge. I live a quiet life but I also know how to party.I have a passion for reading, drawing, listening to music and singing.
When I'm at home I draw a lot, feel free to

commission me in a PM

! C:~. I love random PMs too~
PICTURE OF ME FOR THE CURIOUS

Dream avi:


Visit my B/C IT!

Friends
Viewing 12 of 59 friends
Journal
Eloquent's Scrap Book
this is a scrap book of art, music and everything else.
Signature
gaia_crown [Q] - BRAIN'S PRINCESS,Princess of the Kosmos/Rainbow & Sweet blue date/ LOL gaia_gaiagold
gaia_diamond This is me..