About
My favorite part of Gaia (other than my friends here) is making avatars.
My favorite thing about making avatars is using difficult/unwanted items and making them work.
I call it "breaking" an item.
Although I really think about it as
beating
it - as if it was some kind of pixelated boss at the end of a tektek level that just laughs at you until you can smite it down.
I always try to set challenges for myself - I try to find strange combinations of items to create a completely different effect.
Or I like to use really weird colors.
If I had to label my style it would probably classified as "organized clutter", as I really love to layer.
I also tend to go through phases.
For instance - I was going through all of the Infinity Hat items to make avatars where I either matched the hats or (preferably) used the hat to make the character's head.
The latest phase has been attempting what I considered to be difficult cosplays - which is what has led to my recent submissions in the arena.
Arena wins:
(Thanks to all who voted and commented!)
Week 38, 2008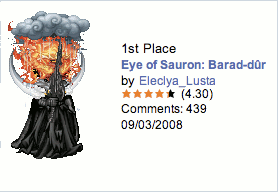 I worked on this for over a year, and finally the urn let me have a cape where the hands wouldn't stick out the sides.
Week 40, 2008
This honestly started with me just messing around to see if it was even possible to do Rogue's hair and then about 7 hours of tekteking and buying items later: this happened.
Many thanks to TheNefariousImp for lending the Mythrill Armor at the last minute.
Friends
Viewing 12 of 35 friends
Journal
Eleclya's Experiment
A first attempt at a journal of online proportions. Brace yourselves...
Multimedia