Dotty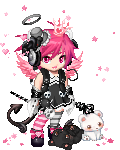 Details
Last Login

04/20/2021 9:37 am

Total Posts

76963

Posts Per Day

11.01

Member Since

10/14/2004
Gender

Female
---
Interests
About
Hi guys. I've left Gaia. This place just got so dumb.

bye guys.


-------

Welcome to my profile!
I'm Ayesha, or you can just call me Dotty.

I'm 24 and my birthday is on the 27th October. Go Scorpios! I'm half caste; half-british and half-indian among other minor nationalities, and I was born in England. I have brown eyes, brown hair...
[x].

I'm very lucky to have travelled many countries in the world; I have been born into a family of travellers. I travel to many different countries, sometimes 3-4 different places a year or more. I like it that way. America still fascinates me to this day and those chinese buns in Hong Kong were a godsend.
I pretty much ADORE accents and foreign languages. Currently I live in Canada with Xeroxer learning French at my job at high-end department store selling luxury fur.

As for my character, I'm a very hopeful person - I have ambitions; so I dream. I know I can get there if I have enough self-motivation and enough determination for pursuit. I want happiness and success. I believe I can get there, but the journey may be hard.

I also love to draw in my spare time. I've been practising for a year now with the same ambition to get better every month/year. I guess for now though, I've been lucky in terms of popularity with my art. So I'm happy. n____n Go to my shop:
[x]

One

major

thing you have to know about me though is that that I'm shockingly girly. @ __ @ I love anything fluffy and cute (pink to be expected of course). I have the best pink hair on gaia, with every single pink item on the website. It's endless... And to some people I'm 'The Pink Princess', naturally. ;o)

Hearts & hugs,
Love, Dotty.

Journal
*scribble* . . . *scribble*
LOL YAY, A JOURNAL, COOL.
Signature
/leavinggaia - Follow my amazing life
♕ [
cooties shop
] + [
status: closed
] + [
RLC: closed
] ♕