About Me XD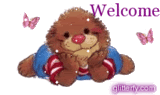 Hello peoplez!!!
my names Nina but they call me Nana XD
i'm 14, and i go to this crappy middle school XP *i hate it so much*.
i have one older sister who is the most best sister in the world, but sometimes she hates me when i'm around cuz' i get on her nerves all the time but i lovez her anywayz XD. I like skateboarding, but i'm not that good at it..XP *my cousin is teaching me how to*. I like listening to music *everyday*.
That's about it.....??
XD