About
Hello. I'm the Doctor. Just the Doctor. Just plain old The Doctor. Yep. That's me.

I'm a Time Lord. Yeah, I know it sounds sort of pretentious. What that means, though, is that I get to travel around in a spaceship called the TARDIS. That's an acronym, by the way; stands for Time And Relative Dimension In Space. It travels through both space and time, as the name implies. It's also dimensionally transcendental -- bigger on the inside than on the outside. Makes for one doozy of a first impression! The chameleon circuit broke a while back, and it's stuck itself in the shape of a police box from Earth's 1950s. I'm afraid it can be rather unpredictable at times. That makes it more interesting, though. One never knows where or when one might possibly end up!

When I said I was a Time Lord, that wasn't completely correct. I'm not just A Time Lord. I'm the last one. The last of the Time Lords. You see, there was a War. I won't go into that. Let's just say that we lost. Everyone lost. I have no planet, no family, no nothing, not anymore. It gets lonely, so sometimes I travel with somebody, a friend. Right now... Right now I'm alone.

Would you like a Jelly Baby?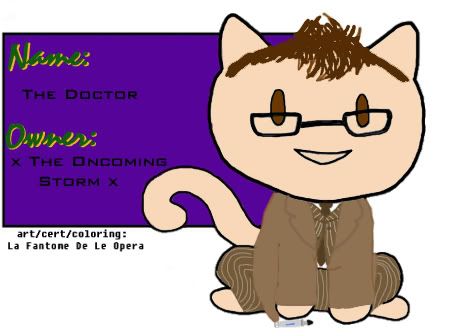 heart