About
Hello I haven't been on over 5 years.
I'm only back promote my webtoon you see all over my profile.
I really miss this place. I also really want to get make my avi thick.
She need hips, so I'm selling alot of my old items, but yeah.
Please go to think link be low, and check out my webtoon.
heart
heart
heart
heart
heart
heart
heart
heart
heart
heart
heart
heart
heart
heart
heart
heart
heart
heart
heart
heart
heart
heart

heart
heart
heart
heart
heart
heart
heart
heart
heart
heart
heart
heart
heart
heart
heart
heart
heart
heart
heart
heart
heart
heart
Journal
Death Candy Journal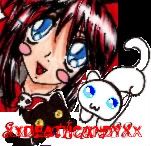 Its my Journal so it mostly about me and things I really like