darkabyssx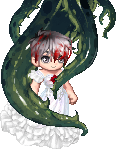 Details
Birthday

01/31
---
Interests
Favorite Movies/Anime
Favorite TV Shows
Favorite Reads
Favorite Music/Bands
Hobbies/Interests
About


I'm darkabyssx

about me.....I don't really know what to say.19. Gender confused. College student, socially awkward, read a a shitton of American comics, web comics, and manga, likes rock, plays videogames, a bit of a dork, and really freaking bored. I also draw alot. future art major maybe I dunno..... so yeah, me . yay.

oh, and mention superheroes, supernatural, or minions and I will freak out. I spent like 20 minutes playing with a bannana scented fart gun a toys are us if that says anything about me.

Also books. I love books. And fall. Halloween, pumkin pie, and pretty leaves.


Friends
Viewing 12 of 19 friends