About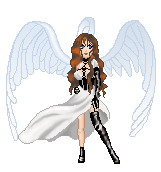 Hi lurker! Want to know a bit about me?
I am a shy person, to those who I do not know. I can be a bit crazy and loony at times, once you get to know you. Most say they have an inner child but I think it is the opposite, I have an inner adult. If you pm me, sorry if I do not respond quick, I am
socially anxiety
,
emo
so bare with me. Also I am Horrible at spelling and grammer, so bad that sometimes even spell check has no idea what I am saying. My fave band is Nightwish.
Just because my profile and avi are dark looking does not mean I am, these are just my fave colors and style. 
Also I want to Rp but feel like I cant, most Rps on here look hostile to people like me. Meaning people who suck at spelling, grammar and don't want to "gariboliar" there posts. Seriously why do posts have to be mulity colored, an essay and pics every where, can't u keep it simple?  
Here is some quick info on me: 
Name: LAngelLilith
Gender: Female
Favorite Holidays: My b-day, Halloween, X-mas
Favorite Animal: Kittens
Favorite Foods: sweets, enchiladas and crab ran goon
Skills:  Dreaming and Drawing
Favorite shows/movies: To many movies to name. Supernatural, Game of Thrones l
Favorite Books: Uglies Series, Anita Blake (before it got to sexed up), Jurassic Park
Favorite Manga: Angel Sanctuary <3, Rayearth, Sailor Moon, xxx holic, Alichino, Princess Ai
Favorite music :Nightwish, Alternative, rock, symphonic goth metal, Trance, Nightcore, ambient, instrumental, movie/game music scores 
Favorite Color: Black ( its a color no matter what art class says), Blood red and purple.