Bio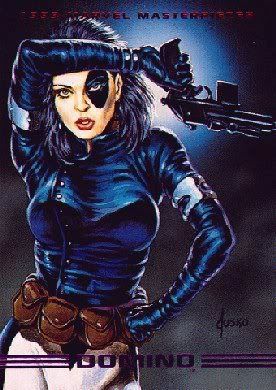 Bio
Real Name : Neena Thurman
Current Alias : Domino
Aliases : Dom, Samantha Wu, Tamara Winter, Elena Vladescu, Jessica Marie Costello, Luisa Mendoza, Beatrice, Christina Elizabeth Alioso, Priscilla Sutherland, Hope Eldridge.
Identity : Secret
Alignment : Good
Affiliation : X-Men, X-Force (Strike Team); formerly Six Pack, X-Corporation, X-Force, Cable's Underground, 198
Relatives : Beatrice (Armajesuit Leader, mother), Lazarus (genetically engineered (brother), Dr. Milo Thurman (husband, deceased)
Universe : Earth-616
Height : 5' 8"
Weight : 120 lbs
Eyes : Blue
Hair : Black
Skin : White
Unusual Features : As results of her mutation, she has chalk white skin, and a black circle around left eye.
Citizenship : American
Martial Status : Widowed
Occupation : Adventurer, former mercenary and bodyguard
Origin : Domino is a mutant, born with abilities that developed during puberty.
Place of Birth : Project Armageddon Base, Everglades, Florida
Powers and Abilities
Powers
*Probability Manipulation
*Enhanced Agility
*Enhanced Reflexes
Abilities
Superb marksman with various firearms, highly skilled athlete, excellent swimmer, adept in use of explosives. Extensive training in various armed combat techniques and the martial arts. She also seems to be fluent in multiple languages.
Strength Level
Human
Paraphernalia
Weapons
Various firearms and knives; staff that fires unspecified ammunition, can be used for balance when jumping, and is equipped with sensors.
Notes
*Domino's real name was eventually revealed as Neena Thurman. For a long time, she was called 'Beatrice', a name that was a play on her luck powers, as Beatrice is derived from 'beatus', the Latin word for 'lucky'.
Bio on Neena Thurman