Cynnybun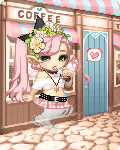 Details
Last Login

06/14/2019 6:57 pm

Member Since

12/16/2006
---
Interests
About
w e l c o m e !
♔
my name is a secret, so just call me cyn, cynny, or any other name you can come up with.
♔
as for how old i am, i'll just tell you that i'm old enough!
♔
i like to roleplay and i frequent a few breedable/changeable shops; see my journal!
♔
i like almost anything cute, and sometimes think that some ugly things are cute!
♔
my favorite animal is probably a baby sloth; they're so cute!
♔
my birthday is december 31st, so buy me presents then!
♔
i draw, as well, so if you're interested go ahead and pm me.
♔
i..think that's about it! any questions?
♔
song: gangnam style by psy!
thanks for coming!
Journal
My Life
Multimedia
Signature


gaia_sakura