About
Well, Well, Well;;
If it isn't my

beshtest Buddy

Michelle (:
>>DIA DUIT XD<<
Me and Michelle Go back a long time;;
780 days to be precise ;D
[[Roughly xD]]
She was my first

real friend

on this;;
And look where we are now (:
We're even Friends on Facebook...
and when that happens you know that

friendship's forever

(: <3
We have even planned our chance to meet when we're older (:
That's true friendship for you right there (:
She's the one person I can

tell all my problems to

,
and not have to worry about any

backstabbing bitchyness

.
If you're friends with this girl;;


Never let her go..


She's the best friend you'll ever have <3
We went outta touch for awhile;;
But I'm so happy that I'm able to talk with her again (:


She has a girlfriend

;;
[[Don't be hatin' (:]]
So all you other bitches better turn the ******** around
and go home;;
You missed your goddamn chance (:
Anyways ...
Michelle you are

my rock and I love you

(:
You are

my bestfriend

and I'm so glad I know you (:
I hope we're

always gonna stay friends

(:
I love you Dude ;D
M
i
c
h
e
l
l
e
'
s
s
p
a
c
e
~
!
HEY YO HOWS IT GOIN ;D
I Adopted a Shinigami!
Name:Ryuk
Loves:Apples :]
No Loves:You
Owner:CupCakeNoJutsu
want to adopt one
Help me
im really gonna need it e,..,e
A black man sat down in a social club. The owner came to him and said sorry sir, we dont allow colored people in here. The man stood up and said, "Colored people? When I get sick I am BLACK. I am embarresed. I am BLACK when I die sir, I am BLACK. When I see a ghost I am BLACK. When I have a rash I am BLACK. But you sir, when you are embarresed you are PINK. When you die, you are PURPLE. When you see a ghost, you are WHITE. When you have a rash, you are RED. So who are you to be calling MEH colored. Put this on your pro if yu HATE rascism
gewd timesss!!!
biggrin
DDDD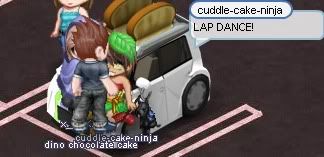 *******
Raaaa
Friends
Viewing 12 of 48 friends
Journal
Do enter?
Multimedia