About

well i like to be a artist and like to do artistic things.
i like to be a leader in most things that i do.
i like to play around have fun and do fun things.
i would like to become a moderator one day but i just believe that that is so impossible because all the other nice people that will be fit to be a good moderator
i like to keep it cool.
i have some friends on gaia that i realy know so i would like to aknowlege some: matthew1234, mad-at-hacker, [XCloudx], blaze511, sonic thehedgehog Warriorbaby more coming soon lol.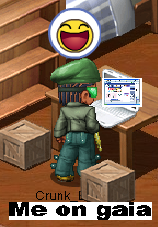 if gaia towns doesn't work us this link
http://graphics.gaiaonline.com/images/towns/010/towns.swf
word bump:
http://graphics.gaiaonline.com/images/Gaia_Flash/WORDBUMP/wordbump0.9.swf
Friends
Viewing 12 of 114 friends
Multimedia
Signature


Now questing for...
.Sash