crazzydarkgirl16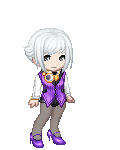 About
1. I love anime
2. I love manga
3. I love reading anything I can get my hands on.
4. I am a published poet, who sucks at spelling most of the time, so forgive me.
5. I am finally only 1 semester away from finishing high school!
6. I am both immature and mature.
7. I am one of the most Accepting people you will probably ever meet. I will always give support to my friends, and will always try to lend a hand to you if you need me!
8. I am extremely protective of the people I love. You hurt them, you will not walk away unscathed.
9. I love animals, Horror movies, Rock music, Anime, Books, Life, My family/friends who are like my family, and I love Myself.
10. I live by the philosophy of . Regret nothing, forget nothing, hold nothing, Love everything, Protect whats important but know when to let go, Feel pain Not fear, and believe in Yourself, always.