About
my best friends are: Jake,Hope,Zara,Jade,Sergio. and liam and orges especially cos their funny.
i am punk
i have brown hair
i have brown/green eyes
i love Scooby Doo (hes soooo cute)
Supernatural rockz
i also have an interest in cars

vw iroc

lamboghini gallardo
i kinda like to read, only scary/interesting books
i love messing about in town and making a fool of my self, i will soon put a pic of meon my prof, wen i can be bothered




i love supernatural!!!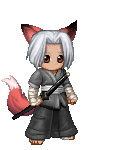 voodude
Me
Friends
Viewing 12 of 122 friends
Multimedia
Signature