About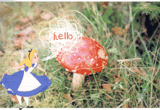 Nickname: CoCo or Sugar

I am woman hear me rwar.
No, but really just a bored grad college who games.
Justa girl full of contradictions and complications.
Xbox: Redrufuschick
Tumblr: Redrufuschicka.tumblr.com
Journal
Reality Contines To Ruin my Life...
You can say ANYTHING about me as you please..But I am what I am; And thats something you can NEVER be.

Multimedia
Signature
[img:2960f50f6f]http://i24.photobucket.com/albums/c50/LoveAbove/Icons/Anime/5-13.png[/img:2960f50f6f]Tumblr Weeds[img:2960f50f6f]http://i24.photobucket.com/albums/c50/LoveAbove/Icons/Anime/7-8.png[/img:2960f50f6f]
[img:2960f50f6f]http://i24.photobucket.com/albums/c50/LoveAbove/Banners/Loveless.jpg[/img:2960f50f6f][/align:2960f50f6f]