About
Hello citizen.
I am James "Jim" Gordon, Commissioner of the Gotham City Police Department.

I am in my late fifties.
My wife was murdered by The Joker who also paralyzed my daughter Barbara.

I am perhaps the only officer who truly trusts The Batman, I know he is trying to make this city a better place and we'd be far worse without him.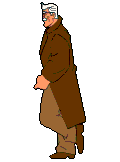 Friends
Viewing 12 of 68 friends