coldheartedangel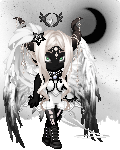 Details
Last Login

01/10/2021 9:03 pm

Member Since

09/23/2004
Gender

Female

Birthday

01/25
---
Interests
About

I am an Australian, currently living in Canada and i am happily married. I love music and hanging with my friends.

Please don't post anything about Modding on my profile, it will be deleted. My PM's are always open if you have an issues or inquires.Please note i do not accept random friends requests.

Signature
21/05/2010, 01/11/2010
R.I.P

Married 20/10/2010.