YOLO GUISE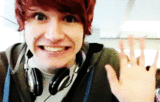 Just comment
Anime List here
Cloudette here.
You could call me Cloud or something xD
I come from Canada! No, we don't live in igloos... Well, for the most part.
School is like killing me and I have no social life.
I'm pretty old. Like an old teenager.
I'm also a female. WOAAAAAAAAAAAAAAHHHHHHH
HORMONES AND MOOD SWINGS!!!



I DON'T KNOW WHAT YOU WANT TO KNOW ABOUT ME.
BUT.....



RECOMMEND ME SOME FAIRY TAIL ROLEPLAYS?!
OR SOME SEMI-LITERATE OR ABOVE ROLEPLAYS?!
NOT ADV LIT
BUT YEAH



SINCE GAIA IS GETTING LONELY AND NOT LIVELY ANYMORE...


YOU COULD ASK FOR MY FACEBOOK OR SOMETHING
THAT'S IF YOU STILL WANT TO KEEP CONTACT


I DON'T KNOW WHAT ELSE TO SAY, BUT HAVE A NICE DAY AND CHOWWW!!