Clocks Declaring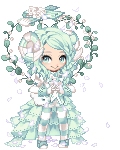 About
If at all interested please PM me! I'm not super-fly rich, but I have some golds and items that are worth things.
Zane
(male human, late teens)
Not a complete goofball but less serious than his companion. Very skittish in confrontations but eventually warms up. Family-oriented (mum and little bro), protective, loyal. Always tries to be positive or at least cheer others up. Loves photography and nature, also wields a sword (just no reference for it. ;3; ).
Nekane (female demon, looks to be late teens/early twenties)
Human
,
Demon
, and
Skill
forms, respectively.
Uses shadows as her skill/ability/power. Is an experiment and made from various demon 'parts.' Little knowledge of human things, doesn't really care for humans either, very suspicious and paranoid. Loyal to those who treat her right. Easily irritated.
Friends
Viewing 5 of 5 friends
Journal
~Fox and Dragon Studios~
My writing, my life, anything else I can think of.
Signature
[img:19123e278f]http://i26.photobucket.com/albums/c146/Mongerofcruel/anei1_blink.gif[/img:19123e278f]
Made for me on TinierMe by Sane Silence.[/size:19123e278f][/color:19123e278f]
[b:19123e278f]<3[/b:19123e278f][/color:19123e278f][/size:19123e278f]

Looking for:
yum_wasabipie Mint colored items~[/color:19123e278f] yum_wasabipie
&
Art of my novel characters. ;3;
If interested PM me? I have a little monies...