Cleirth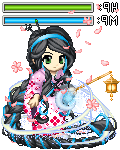 Details
---
Interests
Favorite Movies/Anime
Favorite TV Shows
Favorite Reads
Favorite Music/Bands
Hobbies/Interests
About
Well let me tells you about ME! my favorite mangas are Katio Jenne,Bleach,Naruto,Death Note,chobits,Nana,Hana-Kimi and tsubasa.(i have a lot more but i cant think of em right now)
hobbies: reading, going on the computer, haging out w/ my friends.
Novles:The Dresden Files, The Riddles of Ebsilon, The Keys to the Kingdom, the abhorsen triligy, The Sight.
Lately im obsessing over portal and Souleater.
My ships r Kid/chrona, soul/maka, and stine /marie. i finished protal (a pc game) and it was AMAZING!
right now im obsessing over D. Gray-Man
Multimedia
Signature