About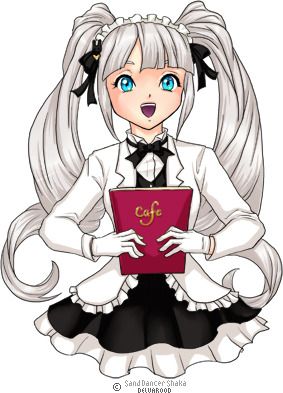 animated gifs by Koyado
Summer 2015 Anime Season
Rokka no Yuusha (Rokka: Braves of the 6 Flowers)
Akagami no Shirayuki-hime
Gangsta.
Gintama 2015

1 March 2014
OMG!!!!!! (☉▿☉)!!!
To those who nominated me, commissioned me, those who supported me all this time and even those of you who were just silently cheering from the sidelines, thank you!!!

And to my Gaia-artist idols!!!!! Thank you for always sharing your wonderful talents and works with us and being sooo inspiring!!!!

Truly!!! (ღ˘⌣˘ღ) ♫

Because of you all, i'm already a winner!!!
(ಥ⌣ಥ)

Ciocio does art...
sometimes
rarely
unpredictably
and is a shameless weeaboo!
My gallery:
i put them all in a journal entry
Tumbling @
ciomblr
Ciocco's poopie dood!es:
click at your own risk
Fanart for me?
Awwww...i am forever grateful <3
Videos currently playing:
Featured video:
Goya no Machiawase
sung by Miku
orignal artist: Hello Sleepwalkers
1. TommyHeavenly6: Pray (Gintama)
2. Faylan: Blue Blaze (BlazBlue: Alter Memory)
3. UNISON SQUARE GARDEN:
Sakura no Ato (all quartets lead to the?)
(Yozakura Quartet: Hana no Uta)
Guitar cover by pQQGtr
4. Phatmans After School: Tsukiyomi
(Yozakura Quartet: Hana no Uta)
5.Style Five: Splash Free (Free!)
6. Supercell: Bravery (Magi-Labyrinth of Magic)
7. Redballoon: Giniro no Sora (Gintama)
8. Takahashi Hitomi: Wo Ai Ni (Gintama)
9. Spyair: Samurai Heart (some like it hot)
(Gintama)
10. Nothing's Carved in Stone: Out of Control
(Psychopass OP) Bass cover by kenfish519
11. Yuzu: REASON (Hunter x Hunter 2011)
12. Sketchbook: Michi (Sket Dance)
13. JP: Boku ni Invitation (Shirokuma Cafe)
14. Supercell/Ryo feat. Hatsune Miku:
Sekiranun Graffiti (Project Diva Extend)
15. DoAsInfinity: Yotaka no Yume (Zoids Genesis)
16. KASUMI: Born Legend (Shadow Skill)
17. Otoha: Ichibyou No Refrain (GetBackers)
18. BUCK-TICK: Dress (Trinity Blood)
19. Takahashi Hiro: Taiyō Ga Mata Kagayaku Toki
(Yuu Yuu Hakusho)
20. LINDBERG: Kono Sora Ni Chikatta (Yadamon)
21. Megumi Hayashibara: Give a Reason
(Slayers Next)
22. Suzuki Yuume: Soredemo Ashita wa Yattekuru
(Ninku)
CioccoLatte's Profile v1.4
Original Profile Code by Kamikazi-Cloud
Images 2013 (c) by CioccoLatte
http://www.youtube.com/p/06958C73C8D13C0F?version=2&autoplay=1
Friends
Viewing 12 of 71 friends
Journal
Chocolate Milk...mmmm...
blah blahs and other nonsense... :3
Multimedia