Cat Mama Emmi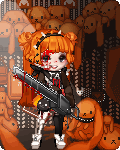 Details
Birthday

01/28
---
Interests
Hobbies/Interests
About
Behind The Crazy Cat Lady:
Name is Emmi!~
I am a full-time college student.
I spend my days drawing, playing on xbox one, cuddling with my cats, & napping with my bae.
Bae = before anyone else
I am pretty friendly ; w ; just to shy to reach out to others lmao.
But let's be friends!~
Awesome Amigos!~
|
Involving Alice
|
The Grim Hatter
|
heart
5/19/14
heart
Friends
Viewing 12 of 19 friends
Journal
Daily life of Cat Mama Emmi
Most likely rants, cat pictures, selfies, and my lame art :'D