About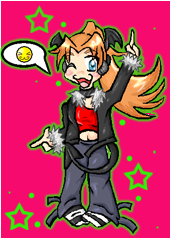 OK SO LYKE
I am Cat-chan and most of the time Gaia pwns my soul. I'm here way to much, but thats cool because you probably r 2 LOLZ
Most of the time I live in the GD
GD REPRESENT YO!
but I also go to the cons and cosplay subforum
(becuase I'm a nerd)
IRL I'm a student studying in Graphic Design. I live in TX and it's cool (well, it's acctualy hot but LOLZ thats lame humor) SUM things I like are cats and chocolate and TV and some things I don't like are catsup, bees and getting rained on when I'm not prepaired.

OH YEAH
AND
I WEAR MAH SUNGLASSES AT NIGHT
D:<

80z music is totaly rad
(:



PL:42/ET:29/GB:5/BB:9

Signature

[b:3a86259c30]
I <3 80's music and neons
[/color:3a86259c30][/size:3a86259c30][/b:3a86259c30]
[/align:3a86259c30]

I want a donation letter, you should send me one (;