About

Cassidy Peterson is not my real name.
Cassandra Diane Peterson was the main character from a fanfic I wrote as a kid. Using the name online helps me keep a consistent, realistic identity across the assorted sites I frequent without having to give my real name to people who don't need it.

Want to sell me something?
If it's not on my wishlist, that means I don't want it, so please don't try to sell it to me. If it's on my wishlist, remind me - I'm likely to forget. As you can see by my wishlist, I'm currently questing for several older event or donation items specifically. Feel free to drop by my
quest thread
to chat or just bump, or make offers.

Want to buy one of my items?
Keep an eye on my Marketplace shop, since that's where I do my selling. Asking me for an item I'm not selling is very rude, and I don't appreciate it, so I will either quote you prices that are unreasonably higher than the market average or - more likely - I'll demand multiples of items that are much more expensive than the item you want from me. And no, overcharging isn't scamming unless I actually lie about what they're worth.
Journal
Randomness & Jackassery
Unnecessary angst, biased rantings, immature bitchery, art, and more!
Multimedia
Signature
heart married as of July 26, 2014 heart

deviantArt / FurAffinity / tumblr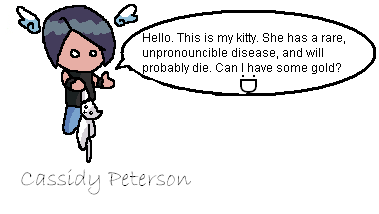 Now Questing Devil Tail!