About
[Watch out! May contain spoilers!]

Cait Sith
☆
Add Comment
☆
View Comments
☆
☆
Reeve Tuesti
☆

Appearance
Cait Sith is an anthropomorphic robotic cat standing just over three feet in height with short black fur and a white stomach and face. He wears a short red cape tied around his neck and white gloves and a small crown. As seen in Dirge of Cerberus and Advent Children, Cait Sith does not possess any outward robotic features that would identify him as a robot, although he is still recognized as such.
In Final Fantasy VII, Cait Sith rides a large robotic Moogle that, according to the Final Fantasy VII instruction manual, he brought to life. It is never specified if Cait Sith is indeed controlling the Moogle robot, or if Reeve is controlling both of them himself. However, the Moogle is capable of action just like Cait Sith, and it is in fact, the Moogle that does the fighting even though Cait Sith is the one equipped for battle. According to the instruction manual, Cait Sith uses his microphone weapons to shout orders to the Moogle. In Advent Children, Cait Sith rides on the back of Red XIII and doesn't seem to exhibit any fighting capabilities on his own.

Character
As he is merely a robot controlled by Reeve, Cait Sith's character can be difficult to perceive. However, he does act noticeably different from Reeve. In particular, his speech patterns are looser, and in Advent Children and Dirge of Cerberus, he has a heavy Scottish accent while Reeve does not. Furthermore, Cait Sith often refers to himself in the first person, and it would be simply impractical for Reeve to have to control Cait Sith directly all the time, so he could have some sort of artificial intelligence. Furthermore, in Before Crisis when under the player's control, Cait Sith still speaks on his own. Thus, a rough picture of Cait Sith's persona can be made. When Cait Sith is depicted as being directly controlled by Reeve, it is not made clear how he controls him, since he is seen at times with a direct link to Cait Sith with no visual means of controlling him (as seen when listening in on Shinra meetings), but in the Ultimania, Reeve is revealed to have controlled Cait Sith using his special ability, "Inspire", in which he is able to bring inorganic things to life; his "child", the cat-shaped robot Cait Sith, can be controlled from a great distance. The accent that Cait Sith has is said to have been inspired from his parents.
Cait Sith is fun-loving and playful, but a bit cowardly and is a poor fighter. He is also loud and irritates the other party members often. At times, when Reeve makes it more clear it is him and not Cait Sith speaking, he is highly accusatory of AVALANCHE's actions—at one time, Cait Sith/Reeve implies that AVALANCHE is just as destructive and dangerous as Shinra. Cait Sith also makes a hobby telling people their fortunes, which often tend to be correct, if a bit vague.
One of the few cases where he decisively asserts his seeming sentience is at the Temple of the Ancients. Here, Cait Sith, referring to himself in the first person, tells the party not to forget about him "even if another Cait Sith comes along", and thanks them for believing in him. Afterwards, a second Cait Sith appears and introduces himself. If Reeve were entirely in control, Cait Sith's mentions of sacrifice, and the second Cait Sith introducing himself, would be redundant, so one could take this scene to assume that Cait Sith does indeed have a mind of his own.

☆☆☆☆☆☆☆☆☆☆☆☆☆☆☆☆☆☆☆☆☆☆☆☆☆☆☆☆
☆
Random Fun
☆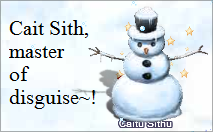 Friends
Viewing 12 of 113 friends
Multimedia
Signature

heart