About

The Names Are Bugzy or Ricky Call Me Whatever Fits Best For You...
I Am 13, And Proud Of It. I Play The Xbox Often, I Love The Halo Series.
I Have A Small Room, And Three Siblings, Two Are Older, One Is Younger.
I Live In Georgia, My Dad Left When I Was Three Days Old.
I Got Hit By A Car Once, Had A Lot Of Broken Bones, And Severe Wounds.
My Family Says It's A Miracle I Even Survived.
I Like School, But Only Cause Of My Friends, Nothing Else.
Getting A's And B's At The Moment, And I Don't Know Why.
I've Had Fun On Gaia For These Couple Of Years.
I Still Am.
I Hate Fast Food's.
I have Lots of Friends That Are Older Than Me By A lot...Even though That Doesn't Matter, I Love Them All! <3
I've Been On Here Almost Three Years...And Its fun, I've Done Some Stupid Things With My Items...But Hey! I Get Them Back.
I'm Not Addicted I Just Come On Here Every Once In A While.
I Do Not Donate Unless I Really Really Really Know And You
Really Really Really Need It!
Dont Just Randomly Add Me Either Come Talk To Me
And We'll See How Things Go!

<3 My Gaia Twin <3
Screenies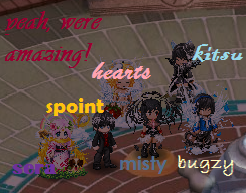 Friends
Viewing 12 of 145 friends