About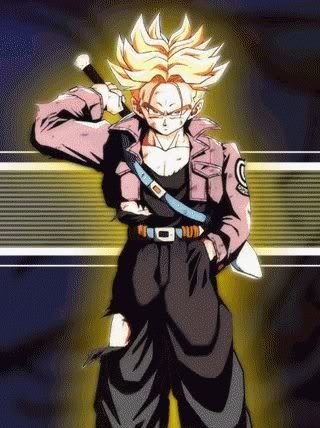 Trunks (トランクス Torankusu?) is a fictional character from the Dragon Ball franchise by Akira Toriyama. Trunks is the half-Saiyan son of Vegeta, the prince of the dying race of fictional aliens called the Saiyans, and Bulma, the heir of a massive company called Capsule Corporation. In keeping with the family's tradition of using underwear puns for names, Trunks' name is derived from the term for men's swim shorts.

Trunks has a slender muscular physique with his most dominant genes coming from his maternal side, thus resulting in his having blue eyes and lavender-colored hair which is mostly shown in the undercut style.[1] During his early teens, this style was parted on his right side and his late teens it was parted in the left. As he is half human, his hair tends to grow. Because of this, he wore his hair in an over-the-shoulders style during Cell Games arc. The color caused some confusion among the other characters that met him; as Vegeta pointed out in chapter 139 and episode 121, a Saiyan's hair color is generally black.[2]
His facial features are nearly identical to his father's as pointed out by Bulma when awaiting Goku's return in the aforementioned chapter and episode.[2] Trunks can transform into a Super Saiyan which causes his hair to spike on end and takes on a golden color and his eyes a Turquoise or green color.
Trunks is also known for his unique fashion sense. When the character was first introduced he wore a cropped jacket that was steel blue in the manga and han purple in the anime with a Capsule Corporation patch on his upper left sleeve that was red in the manga and white in the anime along with a black tank top and baggy gray pants. During the Cell games arc he wore a pair of Saiyan battle fatigues identical to his father which was made by Bulma. As a child during the Majin Buu saga he wore a green gi with matching orange belt and wrist bands. In the GT series he wore a tan blazer, a blue kerchief over a black long-sleeve shirt which matched his blue socks, and a pair of cuffed shorts. Ironically, he has worn the same type of shoes with all three outfits, which are a pair of boot-length strapped sneakers that feature dark-colored segments on the toe and heel.

Trunks possesses several abilities including superhuman strength, speed, reflexes, and energy waves. Which can be utilized by the use of chi. His main means of conveyance is a technique called buku-jutsu (舞空術 lighter than air?) which gives him the ability of flight.[7] However, Trunks does not rely on this technique as his only conveyance as he can also be seen piloting various crafts manufactured by his family's company including the time machine which allowed him to visit Goku in the past.[8]
Both incarnations can at least transform into basic Super Saiyan although their achievement of this form differs between incarnation. Future Trunks achieved this in his early teens but even this varies in media. In the TV special he would ascend after observing the body of the recently deceased Future Gohan.[9] Whereas, In the manga, he is shown to be a Super Saiyan for some time.[4] Present Trunks would be shown to have the ability at the age of eight.[10] In the Cell saga, Future Trunks would gain the ability ascend to 2nd and 3rd Super Saiyan grades[11] during his training with Vegeta in the Room of Time and Mind. Unfortunately, these forms would decrease his speed greatly and so he would abandon them after his first initial fight with Cell.[12]
As a child, Present Trunks could fuse (or merge) with Goten to become the powerful being named Gotenks; this is through the Metamorese technique called the Fusion Dance, which was taught to them by Goku.[13][14] In this temporal form they could achieve Super Saiyan 3 with ease, a feat that was very difficult for Goku to achieve and maintain.[15]
Trunks is also known for his use of his longsword which he keeps mounted across his back. Many fans often mistake this sword for the legendary Z-Sword due their similar appearance. As a child, Present Trunks was supposedly given the sword as a gift by the warrior Tapion after the monster Hirudegarn was defeated in the film Wrath of the Dragon.[16] However it is unknown how Future Trunks come to possess it as the story has never been chronicled by Toriyama or Toei Animation. In GT the sword was only featured in the opening introduction to the series, but was not used in any episodes. Ironically, in an early concept lithograph for GT by Toriyama, Trunks is pictured brandishing a pistol instead.[17] Present Trunks can also be seen wielding the sword in the opening introduction to the video game Dragon Ball GT: Final Bout.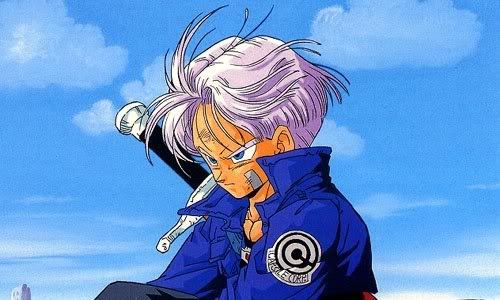 ]Note:If you are a visitor and you roleplay, send me a roleplay start off!


Friends
Viewing 12 of 429 friends
Journal
All about TRUNKS!
biggrin
Multimedia
Signature