About
UNDER CONSTRUCTION
Please enjoy this lame, weeaboo-esque thing that I wrote when I was 11, before I remove it.
Irashaimase! Welcome to my profile! As you see, there will be more images than words. Why, you ask? Because I'm quite lazy. Here's the "About Me" part.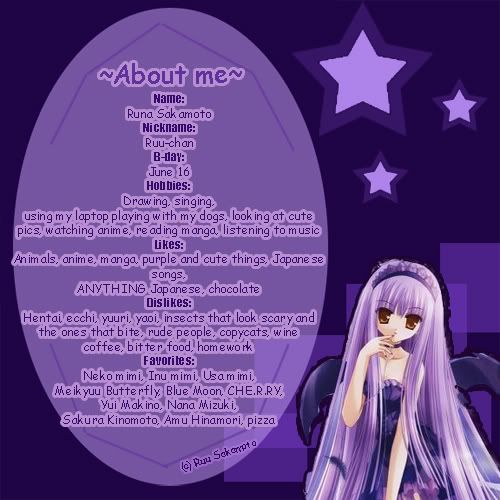 I hope you can read it clearly. =P


More about weird little me:
My name is, well, I don't feel like telling you. But call me Ruu-chan. I already explained most about myself in the about me image above. So, there won't be much here. Moving on...
I am Filipino. I am __ years old (don't wanna tell). I have 3 dogs. My dad is allergic to cats. >.< Judging upon my avatar and profile, I'm OBSESSED with purple. I also LOVE chocolate. I like ice cream. Although it hurts my sensitive teeth. My favorite flavors are Double Dutch, Cookies and Cream, and Rocky Road. I have a best friend. My real life nakayoshi. Her username is Louiise-Chan. She transferred to another school, which makes me VERY sad.. My best friends always transfer.. But she has ionternet, yahoo, and gaia, so I can still talk to her. One of my closest friends here on Gaia is snow_fairy06. I call her Saki-chan. When I was little, I used to be OBSESSED with the power puff girls. >.< But currently, I don't really like it. And since I got to have my own room when I was little, it's full of power puff girls. The walls are orange, with some of the characters painted on it, the bed, chairs, table, and the T.V. cabinet are also have the characters painted on it.. Oh, the HORROR. I'm gonna ask my mom to change it in the future. Into.. yup. You guessed it. All PURPLE!
Another subject:
The reason why I like purple, because, well, it's mysterious, and sad. Just the way I like it! They say it also means loyalty. There's another reason, but I'm not telling anyone. ;3

:>

See ya!