About Jezebel
The Quiz below tells you a little bit about who i am.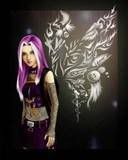 You are in between...You are happy yet depressed at the same time. You're really cunfused about what is going to be in your future, but then again you aren't. You don't have a lot of friend and enjoy being alone, but also being around the people closest to you. The reason of your sadness is because of something in your past, but you try to make the best of it by pretending to be happy all of the time. Element: WaterSong: Going Under by: EvanescenceColors: Anything Earthy or Dark
Take this
quiz
!

Shuji: Thinking back now, How many times have I come here since that day? I was the only one in this town...in this country. no only on this planet who loved my little girlfriend, Chise. This is...*sigh*...was our special place! It was here on that day our love first begin! In a middle of nowhere town like this there isn't a whole lot to do. And we didn't have any plans for the future. But was thing that was for certain, the two of us would fall in love.
- Saikano
Chise: Shuji, You've been really nice to me lately, but it worries me seeing you smile so often! Every time I see you with that forced smile, it makes me want to vanish and disappear! Why did I have to become like this? Did I do something bad? Is this some kind of punishment? Since the fact that I've become an ultimate weapon is a secret, its been really hard not being able to talk to anybody about it. That's why back on that day I...Because what happen to my body! I didn't want you to see me like Shuji! I was happy and at the same time really sad seeing you be so nice to me! And so you don't have to lie anymore! I'm going to be stronger! Even more than I am now! Stronger! So don't worry! It was only for a short while, but thank you for going out with me! I'm sorry!!!
- Saikano